Fishery & Water Quality Committee Update, Fall 2020
This content has been archived. It may no longer be relevant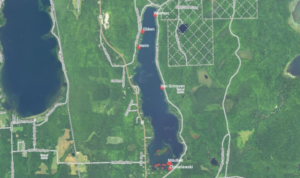 The LLAA application for a WI DNR fish stick permit was approved October 28th. The application process was more complicated and took longer to gather all the necessary information than expected. The application was accomplished with the assistance of Steve Kircher, Forest County Land and Water Conservation Department, and Greg Matzke, WI DNR Fish Biologist for Forest and Florence Counties. Funding for this project has been provided through a grant from the Forest County Potawatomi Community through the Town of Lincoln.
The revised design shown includes up to 42 fish sticks along the shallower southern area of Lucerne bounded by Anthony Island and the DNR-owned islands. There are 6 private landowner host sites — 3 along the northern third of Lucerne, 1 on the eastern shore mid-lake, and 4 on the south end. Joe Heilmann volunteered to order and assemble the cables and anchoring materials over the next few weeks for securing the trees, so we'll be prepared by January, 2021.
The remaining uncertainties at this point will be weather, ice conditions, COVID, and coordinating with the Novak family's Managed Forest Law thinning of Anthony Island which is our source for the trees. Several volunteers (labor and equipment) have offered to assist, but for a project of this nature we can use additional offers. Please contact me if you are interested in helping, . Given the warmer winters and heavier snowfalls Lake Lucerne has experienced in recent years, creation of ice roads would help assure the access to cut the trees on Anthony Island for the Novak family and for LLAA volunteers to drag trees to fish stick sites over the ice and assemble them in bundles of 5 trees. In particular, a skid steer with tire chains and a hydraulic grapple would be very helpful.
For more information, please review this link: https://p.widencdn.net/jcv7ac/Outreach_FishSticksBestPractices.